We all have days when we see our refelection in a mirror, doorway, etc. and say, "What was I thinking?" Here are a few tips to help you make those days few and far between:
VPL:
Now ladies even if thongs are not right for you, there are plenty of alternatives these days for visible panty lines. There are seamless boyshorts and bikinis from Hanes, GapBody, Victoria's Secret, and Nordstrom.
(Pic Glamour Do's and Dont's)
Clothes that are too small:
Because there are no universal size guidelines, designers can cut their sizes however they want. So you may wear a size 6 from one label and a 10 in another. Size doesn't matter, the FIT is what's important. Whenever you knowingly buy something that does not fit correctly you are doing yourself a disservice. Most likely you will not lose those last five pounds that will help you fit into those jeans you had to have and if you wear them anyway thinking no one will notice; believe me, they will.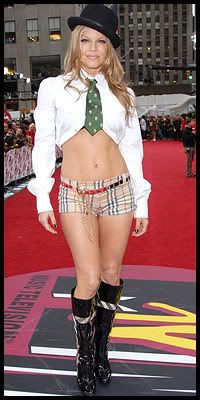 Trend OD:
The latest trend of sequined tube tops and magenta zebra print pants may be fine for a Hollywood "it" girl, but we shouldn't run out and buy every mass produced item because advertisers tell us to. (Ponchos, anyone?) The easiest way to update your look is accessories; a great bag, bold necklace or killer shoes but
NOT
all at once!) Also you can get away with spending less on "of the moment" styles and invest in timeless pieces.